關於我們 About Us
拼音注音標示編輯器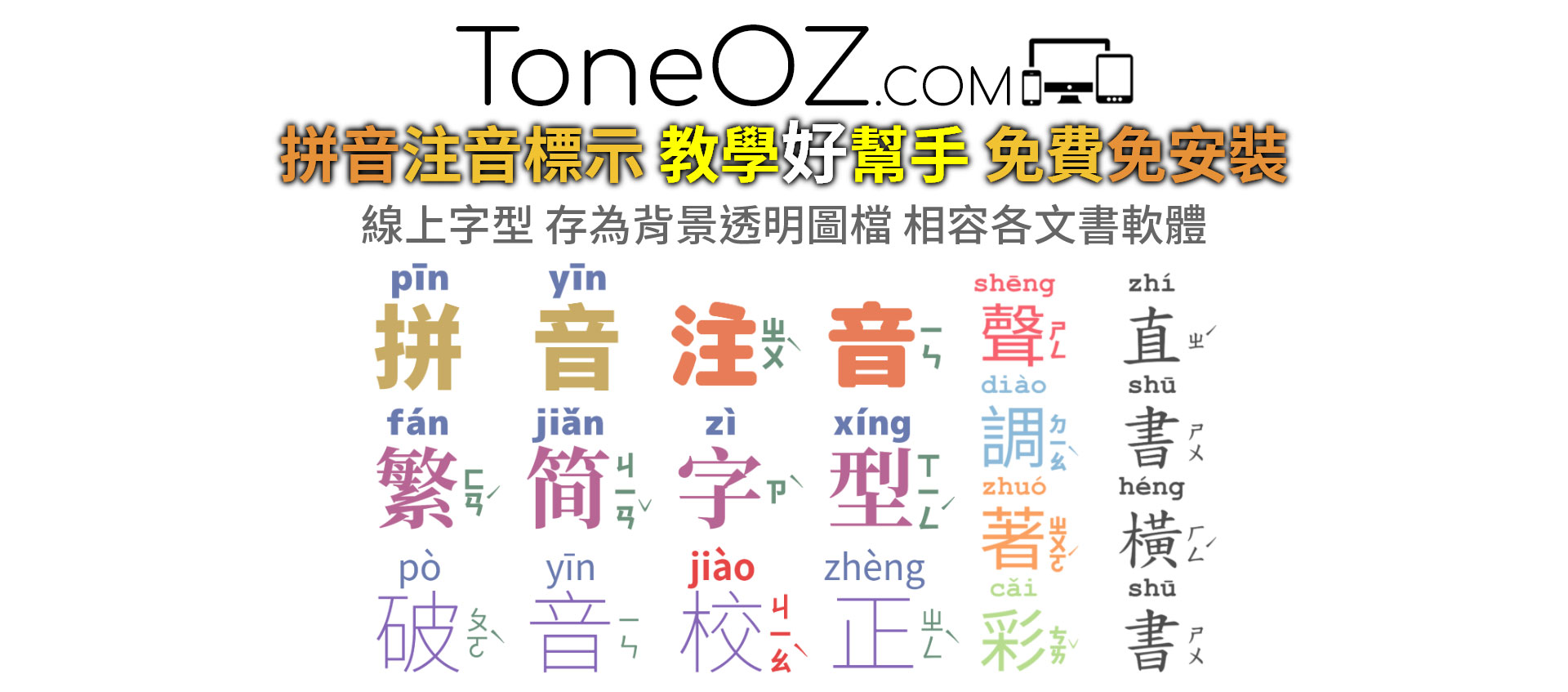 製作 : 宣聲工作室
ToneOZ.COM
(Phonetic Chinese Article Editor)
is created by the Australian Studio
TONE A TO Z
聯絡我們 Contact
---
本服務使用到下列第三方開源軟體, 詳細授權如下
ToneOZ uses opensource software provided by the following third parties
---
關於ToneOZ拼音注音標示編輯服務的華語數據資料:

漢字部分我們可轉換20902個中文漢字拼音注音,涵蓋Unicode中日韓統一表意文字4E00-9FA5區段,廣泛支援現代漢語的所有常用漢字。

拼音注音及簡繁轉換部分,我們的資料查詢核對過康熙字典及維基辭典做調整,原始資料參考中文輸入法pinyin4js,盡可能包含現代漢語所使用的各種發音選擇。

About the mandarin phonetic, traditional and simplified characters data in the service ToneOZ:

Our data includes 20902 mandarin characters, which cover the Unicode CJK Unified Ideographs segment 4E00-9FA5, including all in the Commonly used Chinese characters table.

For the phonetic and the mapping between traditional and simplified Chinese, our original data are from the project "pinyin4js", and then adjusted by comparing with the data from Kangxi, Wiktionary, and other Dictionary data from internet search results, in order to cover the Chinese heteronyms as much as we can.
---
使用條款及隱私權保護政策 親愛的使用者(以下稱使用者)您好,非常感謝您使用由ToneOZ (Tone A To Z 以下稱本公司)提供的本服務(以下稱本服務),以下使用條款(以下稱本條款)在您使用本服務時適用。為了保障您的權益,在您開始使用本服務時,請務必詳讀本條款,您使用本服務即視為您已經閱讀、瞭解並同意接受本條款及「隱私權保護政策」之所有內容,並視為您已確認詳閱並同意個人資料保護告知暨同意事項。如您不同意本條款之全部或部分內容,請立即停止使用本服務。 本公司保留權力隨時變更或終止本服務,且並不會另行通知使用者,且本公司不會就本服務的任何變更或中止承擔法律責任。 使用及限制 本服務僅限於在ToneOZ.COM網站使用。禁止以任何形式複製本服務在ToneOZ.COM以外的網站使用。 請瀏覽本公司之隱私權保護政策聲明,本公司會根據隱私權保護政策聲明處理你的個人資料,你使用本服務即表示你已閱讀及同意受制隱私權保護政策聲明。 你同意及保證不會使用本服務作任何非法目的、干擾或破壞本服務、複製、拷貝、進行逆向工程或以任何方式更改本服務 智慧財產權 本服務包含使用者介面,程式,圖形設計,以及其他著作產權資料均為本公司財產,且受澳大利亞及國際智慧財產權法及著作權法保護。 你同意並確認,你並不擁有任何透本服務所安裝或提供的應用程式。 廣告及第三方內容 "廣告及第三方內容"指本公司以外任何來源所提供的內容服務,包括但不限於廣告商 本服務將視情況提供廣告或第三方內容。你同意並明白在與第三方內容互動或交易時產生的成果及風險將由第三方及你承擔。對於第三方提供的內容,本公司不對其真實性及可靠性承擔任何法律責任。 連結 本服務可提供連結至第三方網站,對於第三方網站的一切內容或者在使用第三方網站時產生的 一切糾紛,本公司不會承擔法律責任。對於第三方網站所提供的資訊完整度及準確度,本公司不會認可或給予保證。使用者同意在使用第三方網站時自行承擔一切使用風險。 免責及責任聲明 你使用本服務及表示同意在使用時產生的一切法律相關權益及糾紛將由澳洲新南威爾斯相關法律管轄。當您在澳洲以外的國家或區域使用本服務時,你會自行承擔風險並遵守當地相關法律。 本公司不保證本服務完全相容於你使用的裝置,你同意自行承擔以任何方式使用本服務對你的裝置所產生的風險,包含但不限於資料遺失或軟體不相容造成的軟體錯誤,本公司不會承擔法律責任。 你同意本公司因本服務而產生的法律責任,其支付金額上限不多餘你使用本服務時對本公司支付的服務費用總額。 保障 你同意在當你在使用本服務,若其產生的內容有侵犯或違反任何法律、第三方權益、或本公司聲譽時,你承諾對你引起的相關一切損失負責並向本公司做出賠償保障使本公司免受損害。 終止 如你不同意或不接受本條款,本公司有權力中止你使用本服務的權力並不另行通知,你無權提出任何要求本公司承擔任何法律責任 Terms and Conditions of Use Dear User (You, The "User") : The following terms and conditions of use (the "Terms of Use") apply to your use of the Services (the "Our Services") provided by the company ToneOZ (Tone A To Z, "Our Company"). Please read carefully the Terms of Use before you use the Services. By using the Services, you are deemed to have read and agree to be bound by the Terms of Use. If you do not accept the Terms of Use, you must not use the Services. Our Company reserves the right to change or discontinue our Services at any time and without notifying the user. Our Company has no responsibility nor liability for any modification or discontinuance of our Services. Services and Restrictions Our services are only provided in the domain "ToneOZ.COM". It is illegal to copy our services to any online or offline website outsideToneOZ.COM. Please check for details of the "Collection of Personal Data Statement and Privacy Policy" of Our Company (the "Personal Data Privacy Statement"). Our Company will collect, use and process your personal data in accordance with the Personal Data Privacy Statement, and by using the Services, you are deemed to have read and agree to be bound by the Personal Data Privacy Statement. You agree and promise not to use the Services for any illegal purpose, to interfere or damage the Services, to reproduce, copy, sell, license, reverse engineer or otherwise change or dispose of the Services Intellectual Property Rights All intellectual properties in our services include user interface, programs, graphic designs, and all copyrighted material are owned by our company and are protected by Australian and international copyright and other intellectual property laws. You agree and confirm that you do not own the Software and applications by installed or downloaded through the Services. Advertising or third party's contents "Advertising or Third Party's Contents" means the contents provided by any person other than Our Company, may include but without limitation to the advertiser(s) The Services may include Advertising or Third Party's Contents. You agree and understand that the results and the risks from the interaction or transactions carried out by you between the Advertising or Third Party's Contents are fully responded to by the Third Party and yourself. Our Company does not take any legal responsibility or any endorsement to the accuracy and the reliability of the content provided by the Third Party. Links Our services may provide links to external websites. Our company accepts no liability for the content of those websites or for any loss arising from use or reliance on those websites. Our company does not endorse any external website and does not warrant that they are accurate, authentic or complete. The user agree to bear the possible risks arising from having access to the Third Party Platforms Disclaimer and Limitation of Liability By accessing our services, you accept that any disputes about this website or its contents are to be determined by the courts having jurisdiction in the Australian State of New South Wealth accordance with the laws in force in the State of New South Wealth If you access this website from outside Australia, you do so at your own risk and are responsible for ensuring compliance with all laws in the place where you are located. Our company does not guarantee the compatibility between our services and your devices, you agree to take the risk and accept the result by accessing our services in your devices, including but not limited to the loss of data or software faulty caused by software incompatible. You agree that the total payable value of the liability of Our Company related to the Services shall not exceed the total amount of the Services Fees you paid to our company. Indemnification In the case of the content you generated by using our services is against or damage any law or third party's right or the reputation of our company, you agree to indemnify Our Company by taking the responsible to your violation of any applicable law or paying the infringement Termination If you do not agree or do not accept the Terms of Use, our company have right to end your right to use our services without notification. Our company does not take responsibility for the termination of the services for you in this case.
---
隱私權保護政策聲明
請詳閱以下ToneOZ服務(以下稱本服務)隱私權保護政策條款,由ToneOZ (Tone A To Z 以下稱本公司)提供。 本公司會按本隱私權保護政策聲明使用及處理你的個人資料及統計資料 當你使用本服務,即表示你已閱讀本隱私權保護政策聲明及同意本公司可按本隱私權保護政策聲明收集、使用及/或處理你的個人資料。 若你是歐盟地區使用者,當你使用服務前,你必需就本公司使用及處理你的個人資料給予同意並點擊『同意』。當你點擊『同意』後,即表示你確定已閱讀本隱私權保護政策聲明及同意本公司可根據本隱私權保護政策聲明收集、使用及/或處理你的個人資料,如你不接受本隱私權保護政策聲明,請不要點擊『同意』。 本服務會以多種方式及途徑向你收集個人資料及統計資料,包括但不限於Cookies 本服務收集個人資料的目的在於改善服務品質 你的個人資料包括一般訪客資料、您的電子郵件Email、Cookies資料、識別碼、IP位址、定位資料、瀏覽記錄、裝置型號和版本及社群網站的資料。 本服務可能會從你的裝置或瀏覽器收集資料。 你的個人資料會經由流量及統計服務供應商、內容傳遞網路供應商、雲端服務及內容寄存服務供應商, 但本公司不會披露或轉移你的個人資料,不會提供資料供第三方識別你的身分,不會將你的個人資料出售給任何人。 本服務僅提供統計資料給予其他第三方,目的在於開拓業務或業務發展 關於Google簡報外掛程式: 使用Google簡報外掛時,ToneOZ會將配有拼音或注音的輸出圖檔以及中繼資料寫入您的簡報檔案。 我們僅讀取Google簡報ToneOZ輸出圖檔的中繼資料,我們不會讀取您的文件中的其他資訊,您的所有資料將會在您的瀏覽器中處理完畢,我們不會回傳任何您文件中的資料到ToneOZ伺服器。需要時我們仍會回傳以上提到的『個人資料』到ToneOZ伺服器。 Collection of Personal Data Statement and Privacy Policy Please view the ToneOZ (the "Services" and Tone A To Z, "Our company") Privacy Statement. The statement is set out below. Our Company will use and process your personal data and the statistic results about you for the purposes described in this Personal Data Privacy Statement. Whenever you use the Services, you are deemed to have read this Personal Data Privacy Statement and agree to allow Our Company to collect, use and/or process your personal data in accordance with this Personal Data Privacy Statement. If you belong to the European Union ("EU's user"), you must agree for our company to use and processing your personal data by clicking "Agree and Accept" before you may use the Services. By clicking "Agree and Accept", you confirmed that you had read this Personal Data Privacy Statement and agreed to allow Our Company to collect, use and/or process your personal data in the way described in this Personal Data Privacy Statement. If you do not agree to this Personal Data Privacy Statement , please do not click "Agree and Accept". Our services will use multiple ways to collect your Personal Data and statistic results, including but not limited to Cookies Our services use the personal data to improve the service quality. Your personal data include the general information about users, your email, Cookies information, Identifier, IP Address, location information, browsing record, device model and version and social media identity information through traffic and statistical services providers, content delivery network providers, cloud services and hosting services providers. Our company will not disclose or transfer your personal data to another third party, will not include your personal data sufficient for identification. Our services only provide statistic results to other third party for exploring business opportunities or business development. For Google Slides Add-ons : ToneOZ will generate an image with Pinyin and Zhuyin meta data, and insert them into your Google Slides. ToneOZ only read the meta data in the text box grouped with the ToneOZ image, we don't read anything else from your document. Your data is only processed in your browser, we don't send any data from your document back to the ToneOZ server. We only send the "personal data" mentioned above to ToneOZ server if required.
---
The ToneOZ uses Google Analytics to gather statistics. The information gathered will be used to improve web services. Google Analytics uses a browser cookie for statistical analysis related to your browsing behavior on the websites. If you choose, you can opt out by turning off cookies in the preferences settings in your browser, or download and install
Google Analytics Opt-out Browser Add-on.
More information on Google Analytics.