Given 100 questions, a Pinyin student answered all correctly, but a Zhuyin teacher might only give him a score 97% . Why ?
Mainland Common Tongue (Pǔtōnghuà 普通話) and Taiwan National Language (Guóyǔ 國語)
By "character" : 13~38% Diff
There were many essays related to the topic "Pronunciation differences in Chinese Mandarin between Mainland and Taiwan". e.g. :
"Comparison of the Chinese pronunciations between Mainland China and Taiwan" (海峽兩岸字音比較) by Qingmei Li (李青梅), 1992
"A Study of the Distinction of Pronunciation Standards between Taiwan and Mainland China" (兩岸語音規範標準之差異探悉) by Jihong Nan (南基弘), 2008
Most of them are based on "Diff by character" : The 3500 high frequency words specified in "List of Commonly Used Characters in Modern Chinese" (現代漢語通用字表, 1988).
Experts check the differences character by character. While a mismatched pronunciation was found, essays usually provide several example "words / vocabularies" with that character.
E.g.: 绩/績 (means "achievement") is pronounced differently. In Mainland it is tone 4 (jì ㄐㄧ\), while in Taiwan it is tone 1 (jī ㄐㄧ). As an example, the vocabulary "成绩/成績" :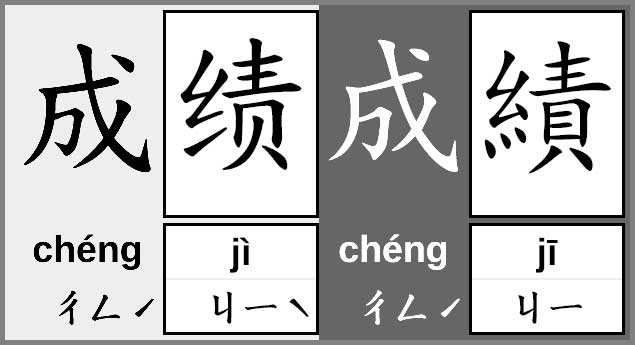 In this way, a final diff percentage was calculated, based on characters: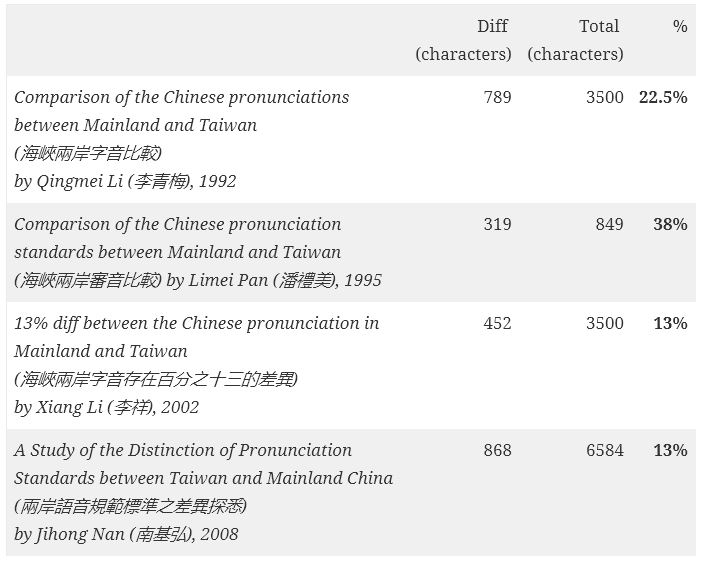 "13%~38%" is a large difference. It makes people feel like a student could only get a reduced score of 62%, with his 100% corret study from the other side? A little bit more than realistic.
By "vocabularies" : 3% Diff
In stead of only compare the 3500 characters, ToneOZ tried a new way : To compare all 170,000+ words / vocabularies in the dictionary. The Chinese characters are pronounced differently after they are combined into words / vocabularies, this should give us some data from a different point of view.
By "vocabularies", there are 513 characters from around 6K words/vocabularies have been identified with different pronunciation between the Common Tongue and the National Language. It is based on a programmatically comparison and then a manual review for around 170K words/vocabularies from several word banks :
CEDICT (the largest open source Mandarin-English Dictionary)
National Language Mandarin official dictionaries "Applied Modern version Jian-Bian-Ben" (國語辭典簡編本) and "Literature version Zhong-Bian-Ben" (國語辭典重編本) by the Taiwan Ministry of Education)
"Jeiba" Chinese text segmentation database.
The diff rate is 3.88% : In all 170,580 words, there are 6,623 words are pronounced differently.
We also use word banks to filter percentages from "high frequency words" only. In Australia, there are 2 common Chinese certifications:
Chinese Proficiency Test, Hanyu Shuiping Kaoshi
(漢語水平考試 , HSK)
Test of Chinese as a Foreign Language
(華語文能力測驗, TOCFL)
They are both designed for non native Chinese speakers to learn general conversations. As results: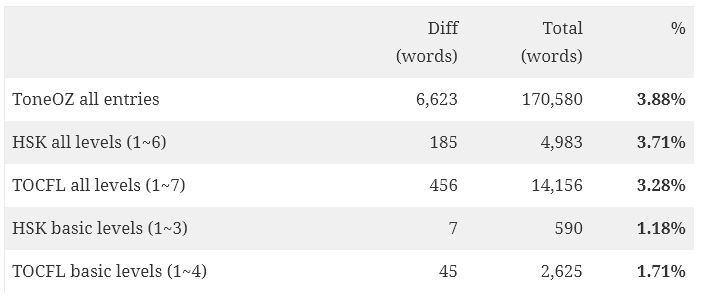 The results filtered by HSK and TOCFL are all close to 3%, which gives us more confidence in this number. And if we filter from basic levels only, the percentage becomes around 1%(For basic conversation ability, HSK level 3 or TOCFL level 4 is required).
In conclusion : There are pronunciation differences in Chinese Mandarin between Mainland and Taiwan, but not too much, only about 3% words are pronounced differently. In general conversation the difference rate could become 1% only. You don't have to worry too much about these differences if you are learning Chinese.
Toneoz.com/data provides a list for all the Chinese words with pronunciation differences, and it can also check pronunciation differences from a whole Chinese sentence.
Read More